One usually thinks about technical services jobs in a library as back-of-house, away from people. My job as e-resource librarian is certainly a technical job, but some days I get home from work and realized I've talked all day long. When I have a meeting in my office the visitor often sits in this chair, which is to the side of my workspace: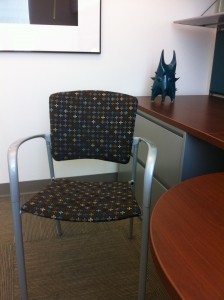 If I had my office set up like others in the building I would need to invite my guest to come stand behind me if I wanted to show something on my computer. Instead I put my computer onto a Lazy Susan so we can both be seated comfortably and share the monitor. I rotate the Lazy Susan so we can both see the monitor. It's a simple thing, but it's really helped me achieve the collaborative spirit I was hoping for in my office.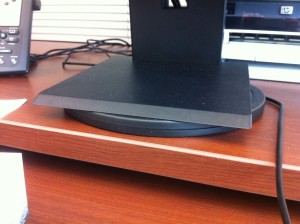 I mouse with my left hand, so this gives my guest an easy opportunity to "drive" with his/her right hand while we're working.