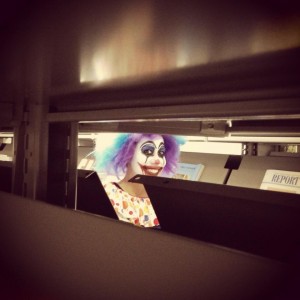 Yesterday in our library we had a literary trick or treat (https://www.facebook.com/events/188173741368699/?ref=22). As the serials librarian I have to strongly object to having clowns in the periodicals section. I may have to have a smudging ceremony to rid the section of the haunted leftovers!
Event description:
At this special event guaranteed to surprise and thrill, LMU Theatre Arts students haunt the stacks of Hannon Library with scenes from horror novels as ghostly guides escort you through paranormal literary activity. Tours will leave the library entrance every 10 minutes.
This event is a part of the semester-long series Spaces Between, a joint initiative of the Laband Art Gallery and the William H. Hannon Library at LMU, and the Ben Maltz Gallery at Otis College of Art & Design.