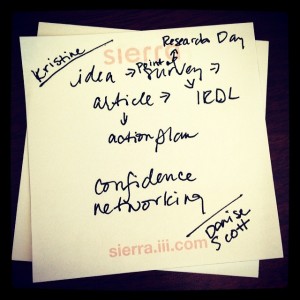 I'm presenting at the upcoming SCELC Research Day on March 4, 2014. Here's my presentation draft! Guess I'd better get to work.
Title: Academic Librarian Research: Survey Results Leading to Action
Abstract: This presentation records the process of taking an idea about librarians and research and following it to a productive, actionable end. Kennedy will discuss the generation and design of a survey that was used in late 2010 to gather over 900 responses to questions about how libraries perceive their own place in conducting research, and where the results of that survey have led. Results from the survey will be shared to demonstrate how they have impacted the development of the new Institute for Research Design in Librarianship.