For the last few months every time I walked from the library to get my stress fix (a small bag of Flaming Hot Cheetos) from the campus bookstore I would pass by a light pole hung with a large banner of myself, as part of the LMyoU campaign. It's been a total delight to get to be the face of the library for the 2017 cohort. Here's a link to the website that has my picture and story, along with all of the other cohort members: http://lmyou.lmu.edu/marie-kennedy/. I really like the photograph that LMU staff photographer, Jon Rou, took of me.
Here's what the banner looks like: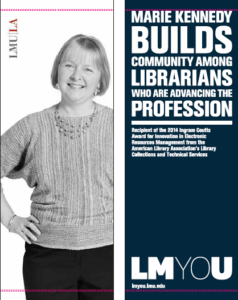 It's nice to be recognized on campus for the award I won in 2014, the Ingram Coutts Award for Innovation in Electronic Resources Management from Collection Management Section of the American Library Association's Library Collections and Technical Services.