Marie Kennedy on Mar 25th 2013
Cue the disco ball drop and pop open the champagne, our book is published. Here's a link to the official press release: http://www.americanlibrariesmagazine.org/news/ala/how-do-it-manual-marketing-libraries-electronic-resources.
It's out there in the wild now!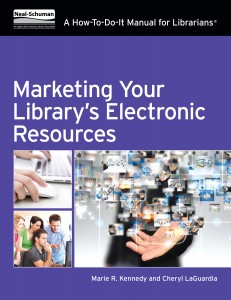 Kennedy, Marie R., and Cheryl LaGuardia. 2013. Marketing Your Library's Electronic Resources: A How-To-Do-It Manual. Chicago: ALA.
Filed in book,library,marketing,writing | Leave a response|